Forsage BUSD – Forsage Review 2023 – Is Forsage Legit? is our today's topic. Forsage BUSD is a currency ecosystem that now offers high-end profits on BNB/ETH/Tron investments via Defis running Smart Contracts. An identical offer was offered a year ago. When Lado Okhotnikov duped investors with his MLM Forsage platform. Is this the same Forsage as before? Is it a scam or a legitimate decentralized blockchain for earning bitcoins online?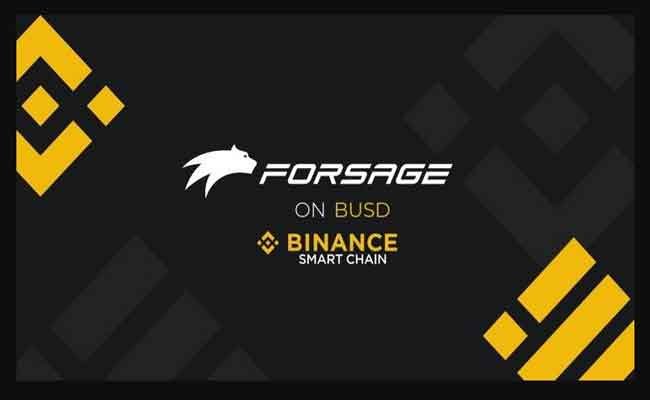 See the answers to these questions on this site. Aside from proposing to compensate you for investing your money or bringing individuals to the Forsage BUSD niche. The brand denies any claim that it is a Company. We'll go through these issues in order. Read on to find out much about Forsage and what it's all about.
BUSD Forsage: Organization Or Not? Is Forsage Legit?
Since Smart Contracts have proliferated on the ETH/BNB blockchain. And other corners of P-2-P networks, various MLM sites have taken advantage of them What gives? To begin, realize that Agreements are software programs. They perform electronic binders utilizing conditional events.
As a result, two traders on a Defi platform can do business without the of a broker or legal practitioner. Traders assume that their transactions are secure because Smart Contracts will send or withhold cryptocurrencies based on a set of programs.
Some MLM companies, issue crypto tokens tied to either BTC or ETH, while assuring. That all trades manage using Smart Contracts In reality. they are in charge of the platforms and the Smart Chain rotation. is a mask for defrauding people. This is when Forsage BUSD enters the picture.
According to their website, the description below completely depicts Forsage BUSD: "…a self-executing smart contract directed to carry out sequences of arithmetic. Logical or pre-determined processes using computer programming to achieve a certain purpose."
Forsage BUSD further claims that it is not a CEO-managed company that might face legal action. If it fails to make payments You can guess where this is headed. Forsage BUSD does not confess to being a legitimate organization. But it claims to give Spillovers and Airdrops as referral bonuses. This is a classic MLM Ponzi scheme.
Forsage BUSD : History
Many bloggers have been pulled in by Forsage's Smart Contract tale. Nonetheless, many outliers express reservations about the website. This is not without cause Within its first year of operation. Forsage has disappointed investors in all its past offerings. Look at what occurred.
Forsage's previous version as an ETH-backed MLM platform lost legal rights in the Philippines on July 1, 2020. Because its digital securities rely only on managed tokens, they are not market-sensitive. Forsage recently mentions a growth policy and improves its script.
Transactions system to include BUSD in its Ether, Byte, and BNB dossiers. None of these tendencies remove it MLM trade characteristics though. Consider the website displays that you may earn through an affiliate program.
Furthermore, the Forsage BUSD is a redesigned program by its anonymous proprietors to attract partners using traditional Pyramid schemes. The next sections will explain why this is the case.
Forsage BUSD: Entry Prices/Cryptocurrency (BNB)
As before stated, Forsage advocates claim that the platform adapts to increased transaction volumes by offering BUSD (a stablecoin). This is most likely another pretext to steal people's cryptocurrencies. Furthermore, the Forsage website converts major cryptocurrencies to BUSD in a 1:1 ratio. If this match is certain, you can access the trading niche on the site using the following methods:
To access Binance, make sure you have the required BNB tokens in your wallet. Because BUSDs derive from the BEP-20 currency. Possessing the necessary BNBs allows it to reduce swings. Following that, you may invest in any listed Smart Contracts on Forsage BUSD, Forsage Tron, or Forsage BNB.
Products And Services
The Forsage website offers Defi-run cryptocurrency exchanges governed by Smart Contracts. As such, you cannot buy actual things through the marketplace. You might instead work as an affiliate. A partnership offering that delivers fixed ROIs on the matrix model is one of the other services available through the platform.
You may also profit from the FXM token cache. Furthermore, Forsage provides a BUSD stable currency. That is allegedly recognized by the New York State Department of Financial Services. The widespread adoption of the Stable Coin function. It may or may not relate to the Forsage BUSD stable currency.
Marketing Structure Matrix
You may make money from the site by utilizing the following matrices:
The xXx Matrix,
The gold matrix
3 times forsage
Forsage deluxe etc.
The Forsages 3x and 4x matrices provide you with twelve units with escalating profit rates based on the size of your investment. Weighted binary teams use in other cycles. xGold, for example, awards various points/places over four (4) downlines.
The affiliate page on Forsage online webpage is a maze of referral tiers and incentive systems. See the instructions for registering on the page below.
Start Here:
To register/join the Forsage BUSD platform. You must have at least ten (10) BUSD to begin the Forsage 3 Both matrices operate as depicted on the page.
Following that, you can choose from higher-tier investment packages on the website. But, as you might think, they will be costly.
Conclusion Forsage Review
According to Forsage, there is no administrative staff in charge. It does, but, bears all the hallmarks of an MLM organization that offers pyramid incentives through its referral programs. Furthermore, the platform disassociates itself from any obligatory behavior in relation to your investments.
Although it's marketed as a dependable Defi network. How trustworthy is its services cache? Swaps over blockchain networks might be dangerous. Especially when there are no independent means to ensure its integrity.
Furthermore, all the rhetoric of Smart Contracts is an alibi for probable fraud actions. As a result, the platform can close at any time because its actions cannot link to any real-world place.